Environmental Conservation
As regulations and accepted science evolve, so do our environmental management methods. We are committed to understanding and mitigating the impacts our operations may have on the environment, starting before the mine is in production through post-closure. We not only take care to minimize any adverse effects on the environment but also work alongside the local communities to look for ways to improve our performance.
Air
Mining can create dust and, like any business, contribute to greenhouse gas emissions. To make sure our community has clean air, we will:
Crush rock underground and in enclosed buildings
House stockpiles of ore in covered buildings
Spray water on roads and use dust-suppressing hoods and enclosures throughout the operation
We will monitor the air to ensure it meets the US Environmental Protection Agency's clean air standards and will share the results of our extensive air monitoring network with the community.
Land
There is no doubt that mining changes the landscape. We're committed to protecting the land and surrounding area while we operate and after mining is complete.
To date, we have initiated a variety of land management and restoration programs to protect and balance the delicate interaction between critical environmental factors. Examples include cleanup of the historic Magma Mine site, Arizona hedgehog cactus preservation, and monarch habitat conservation.
We continue to work with the community and our partners to progressively rehabilitate land during the life of our operations.
Reclamation
The final reclamation of the entire site will start at the end of the 40-year operating mine life and will take several years to complete. A final reclamation plan for the future mine is a requirement under both state and federal law before mining can commence.
Planning from the earliest stages of project development minimizes financial, social, and environmental impact. Closure plans will evolve with the development of new reclamation technologies and best practices. Resolution—not taxpayers—will be required to cover all closure costs and post-closure monitoring.
Examples of work during reclamation include closing and sealing the mine shafts, decommissioning facilities, removing structures, re-contouring and reseeding land, and long-term water quality and vegetation monitoring.
Together with the local communities and regulators, we will determine the most sustainable long-term plan for using the land once the mine closes. Some facilities might remain to preserve the historical mining heritage of the region while others may remain available for reuse.
Subsidence
Block cave mining will result in a slow, progressive sinking of the ground above the deposit called subsidence. Based on our studies, we believe that after 40 years of mining, the subsidence zone would be between 700 and 1000 feet deep. We will monitor and manage subsidence during and after our mining operations to minimize the potential impact of our work and preserve natural features such as Apache Leap.
Tailings
The mining process involves separating the copper ore from noneconomic rock. After the removal of the copper, what remains is called 'tailings.' Tailings include particles of rock, water, and residual process chemicals. We will pump the slurry-like tailings via a pipeline to a designated facility for permanent storage.
We are required by law to engineer and construct a safe and stable tailings facility. The facility design is meant to protect the environment, even in an earthquake or through unusually heavy rain events. Before obtaining any permits to construct, we will develop a closure and reclamation plan, including financial assurance.
Independent third-party experts will regularly check the design and operation of the facility. There will be an extensive monitoring system to check groundwater, surface water, air quality, and stability. Water from the facility is subsequently recovered and recycled back into the operation.
Reclamation and remediation of the stored tailings will be ongoing throughout the mining cycle to mitigate environmental impacts. Under the current design, we will reclaim the tailings facility with vegetation native to the Sonoran Desert, both during operations and after mining is complete.
Water
We take water seriously. That's why we are doing everything possible to protect and reuse this critical resource, particularly here in Arizona.
Water in mining is needed to make bare rock give up its valuable minerals in the production process, known as concentrating. Water is also helpful in other aspects of mining operations, like dust control and cooling.
We have spent millions of dollars securing banked water, otherwise known as long-term storage credits, that will provide water for our operations. This water comes from the Colorado River via the Central Arizona Project (CAP) canal. We've already stored enough water to sustain our operations for more than half the mine's operating life. We continue to look for and secure other sources of renewable water (banked or direct allocation from the CAP canal). Throughout the mine life, we'll use water responsibly and recycle it whenever possible.
As we work to gain access to areas we want to mine, we must 'dewater' or remove water deep within the bedrock so we can work safely. Since 2009, the water we remove goes through a treatment process on-site and is then sent to an irrigation district where farmers use it to grow crops. Continuous monitoring ensures the water meets regulatory standards. Once the mine begins operating, we will also recycle the water in our processing facility.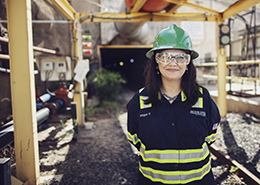 At Resolution Cooper, women are leading efforts to support nearly 25% of the United States' annual copper demand, providing a material that is integral to daily life and enabling the energy transition. While mining is typically seen as a male dominated field, women at Resolution Copper are making their mark on the mining industry and paving the way for future generations of woman miners. It starts at the top with Vicky Peacey, President and General Manager of Resolution Copper
https://resolutioncopper.com/wp-content/uploads/2023/09/Blog-Thumb.jpg
185
260
Troy Corder
https://resolutioncopper.com/wp-content/uploads/2021/09/resolution-copper-logo-white.png
Troy Corder
2023-09-11 15:03:01
2023-09-11 16:10:15
Women in Mining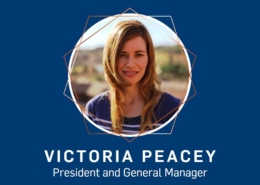 A longtime copper and mining industry veteran who has served as acting Project Director since the summer, Peacey has held a number of leadership roles at
https://resolutioncopper.com/wp-content/uploads/2023/03/Victoria-Peacey_Social.jpg
555
780
Troy Corder
https://resolutioncopper.com/wp-content/uploads/2021/09/resolution-copper-logo-white.png
Troy Corder
2023-03-15 01:19:51
2023-03-16 21:43:42
Resolution Copper Names Victoria Peacey As President and General Manager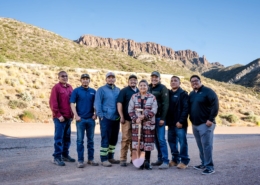 The Arizona Mining Association (AMA) awarded Resolution Copper the 2022 Sustainability, Preservation, and Diversity in the Environment Award (SPADE) for Public Education.
https://resolutioncopper.com/wp-content/uploads/2022/12/Team-Photo-for-SPADE-Award.jpg
1683
2472
Troy Corder
https://resolutioncopper.com/wp-content/uploads/2021/09/resolution-copper-logo-white.png
Troy Corder
2022-12-01 00:21:31
2022-12-02 01:06:49
Arizona Mining Association Awards Resolution Copper 2022 SPADE Award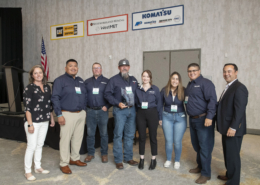 Resolution Copper accepted the Rocky Mountain Mining Institute's (RMMI) 2022 Safety Award for Small Underground Mine.
https://resolutioncopper.com/wp-content/uploads/2022/07/HalWilliams2022-5744-scaled.jpg
1707
2560
Troy Corder
https://resolutioncopper.com/wp-content/uploads/2021/09/resolution-copper-logo-white.png
Troy Corder
2022-07-18 18:41:28
2022-07-18 18:42:35
Resolution Copper Receives Rocky Mountain Mining Institute Safety Award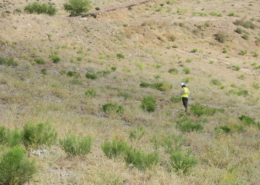 Resolution Copper has partnered with The University of Arizona since 2014 on research of revegetation methods for mining reclamation purposes
https://resolutioncopper.com/wp-content/uploads/2022/05/Sierra-sampling.jpg
1080
1620
Troy Corder
https://resolutioncopper.com/wp-content/uploads/2021/09/resolution-copper-logo-white.png
Troy Corder
2022-05-26 17:33:40
2022-05-26 17:37:55
Resolution Copper partners with the University of Arizona on Reclamation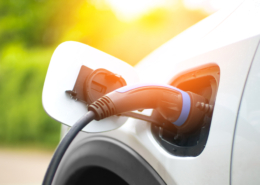 Last week the U.S. recognized National Transportation Week, a time dedicated to the appreciation of our nation's key infrastructure
https://resolutioncopper.com/wp-content/uploads/2022/05/iStock-1317950392-scaled.jpg
1308
2560
Troy Corder
https://resolutioncopper.com/wp-content/uploads/2021/09/resolution-copper-logo-white.png
Troy Corder
2022-05-23 20:35:25
2022-05-23 21:06:41
National Transportation Week: A Reminder of Our Rare Mineral Needs